In order to inform the public of your choices on the primary ballot, the "I Love Coalville" website has invited all candidates for Coalville City office to send us information they want the public to know about them and why they are running.  Lynn Wood is the first Mayoral Candidate to respond to our invitation.  Hopefully we will have an opportunity to hear from the other candidates as well!!!
Here is what Lynn would like you to know:
Hello Coalville residents!
I'm Lynn Wood and I'm running for Mayor.  If elected, my highest priority would be to enable more meaningful citizen involvement in our local government. Our community vision statement needs to be reviewed and updated before we take any next steps.  If we don't clearly define our future, other forces will!  As we move forward with city planning and code adjustments, we must constantly seek balance among property rights, developer desires and the community vision.
I came to this community nearly 15 years ago when I married my husband Jay.  We spent the next four years renovating his old, neglected farmhouse here in Coalville.  I quickly came to understand why this place was so close to his heart.   The people are genuine, the setting is picturesque and there is a sense of place and community that I had never experienced before.   Together we have a big, blended family with 10 children and a growing group of grandchildren who all love to come spend time at the old 1902 Coalville farmhouse.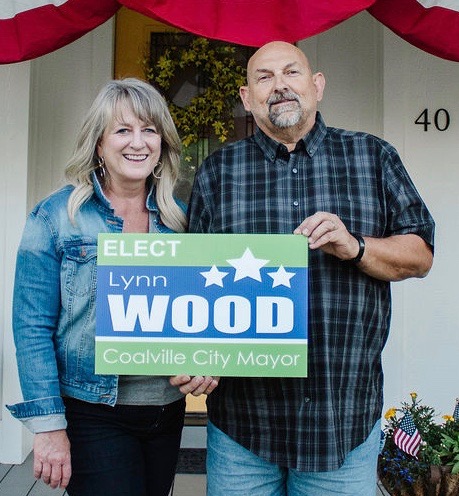 Prior to meeting Jay, I grew up in Salt Lake City then attended Brigham Young University on a piano performance scholarship.  Later, I changed my major to accounting but music and the arts have always been an important part of my life.  I'm also excited to be a volunteer with a new group in the area, NS Unite. This group will be bringing more opportunities for North Summit residents to preserve history and experience music, art and culture.
In my 30-year career as a Certified Public Accountant (CPA) I've help numerous small and family-owned businesses grow and thrive.  I understand the needs of small business owners.  I currently operate my own small CPA consulting firm while also working as the financial controller for International Petroleum, LLC.
My business mindset will be an asset in managing city finances and helping drive economic development. But my passion for old houses, historic buildings and our rural lifestyle will bring a much-needed balance to the growth pressures we are currently experiencing.   I'm not someone who has moved here hoping to make things like the place I came from nor do I want to close the gate behind me. Being a "move-in" to the community gives me a unique perspective.  Things about this community that may seem common place, everyday or ordinary to long-time residents are extraordinary to me! Although I haven't lived here as long as some, it hasn't taken me a lifetime to recognize the unique privilege it is to be a part of this community.
I ask for your vote and your voice.  Let's work together as citizens and grow a vibrant community that stays true to its roots!
Please follow along on for more specifics:
Facebook page  Wood4Mayor
Instagram Lynn4Mayor
Contact me lynnwoodcpa@gmail.com
Be sure to click on these links to check out the other candidates who are featured in this series: Kelly Ovard – Council, Gibeon Robbins – Council, Louise Willoughby – Council, Brandon Brady – Council, Steven Richins – Council