One thousand newsletters were sent to Coalville area residents in March 2021 inviting everyone to share their vision for Coalville's future.  Just over 100 responses were received and the results reveal some clear patterns.
Click here for complete data, charts and comments – Vision Survey Results FINALx1
What's in a word?
Nearly 60% of respondents selected the words small, rural and unified to describe their vision of Coalville's ideal future.  Other popular words from the open comment section were historic and vibrant.
This result closely follows the responses to a word cloud exercise from the "By the People, For the People" event hosted by CFRG on January 20, 2019.  People in attendance at this meeting were connected to a large screen on stage via their phones.  They were asked to type in any word that described why they chose to live in the Coalville area.  The words selected most frequently became larger and this picture was created.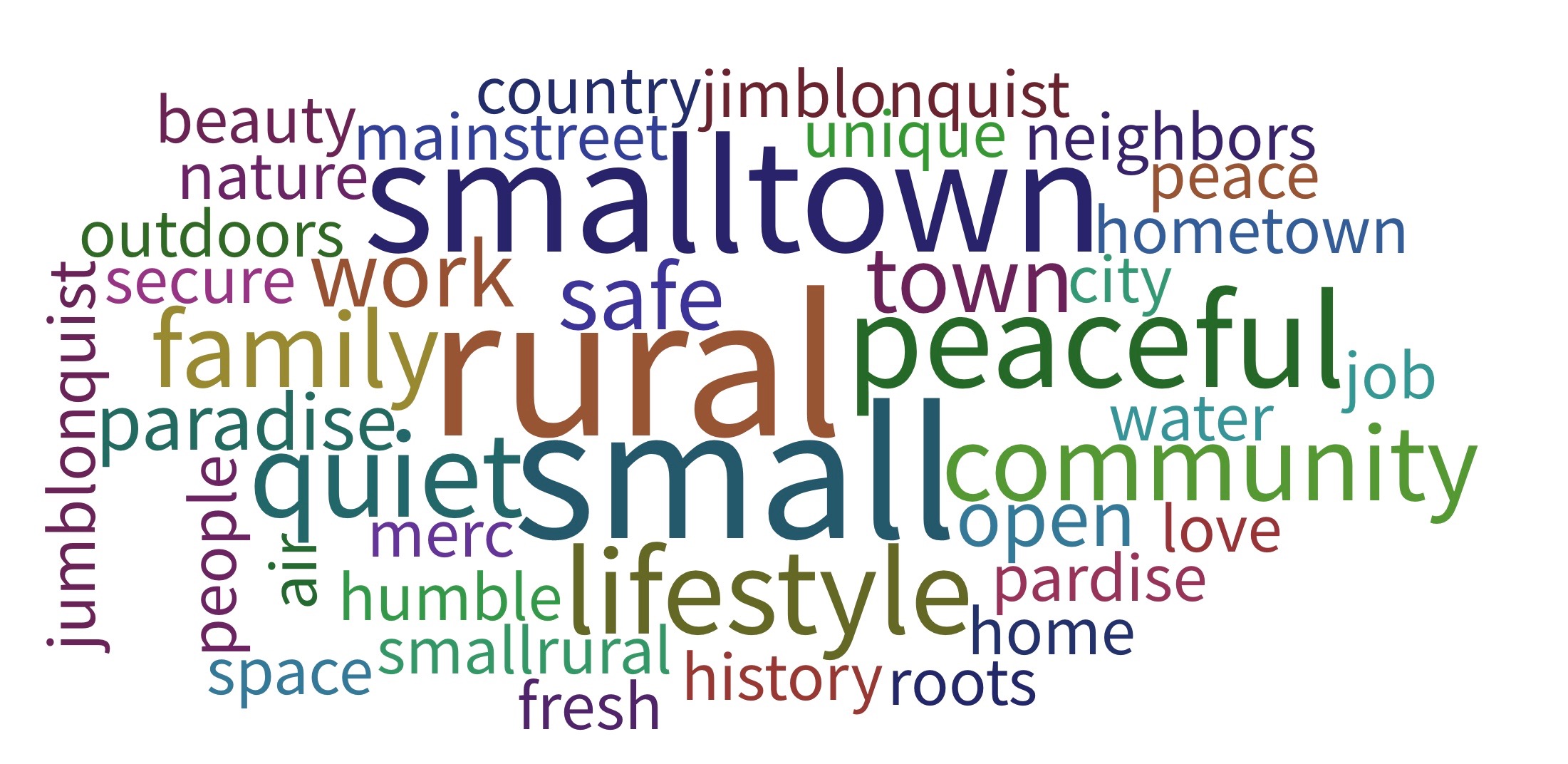 Small and rural led the pack at this meeting too.  We love that Jim Blonquist and The Merc made the list, and we couldn't agree more!
What do small and rural mean to you?
The results show may factors contribute to a small, rural feel although a "sense of community" where "people help people" lead the responses.  Other important factors included a "focus on faming, ranching and open space" and a "commitment to locally owned businesses".
A few comments on this section give additional insight.
"Embrace growth, don't get left behind, but stay sensitive to Coalville's roots. I believe we can have both!"

"Small-town feel is Appreciating agriculture while acknowledging that Coalville's population is going to increase. Quality of life=amenities that are locally owned, a beautifully full and renovated Main Street (existing buildings are fabulous but show no pride of ownership. No new facades, painting and grooming is what's needed). Welcoming newcomers and inviting them to find their way in our town."
What type of development is desired?
Farming, ranching and agricultural activities were the most popular type of development with 63% of respondents wanting to see an increase.  Smaller affordable homes and single family homes on larger lots were also wanted along with more retail businesses and restaurants.  Hotel and lodging facilities were the least popular with a whopping 85% wanting no increase or a small increase.   Recreation and resort developments reported 77% of respondents wanting a small or no increase.
How important is Main Street and what would you like to see there?
The survey showed a strong interest in preserving our historic Main Street and improving the business climate for local business owners.  The number one request was more sit-down restaurants and maybe an ice cream or coffee shop.  Although a handful of people liked the idea of a Dollar Store most gave it a thumbs down.  The results indicate that retail businesses on Main Street have an uphill battle and some creative solutions will be needed.  Following are a few comments from this section.
"The issue is we are small town and have limited resources. This makes it hard to have new business. We would have to see what most of the people in town go out of town for. So many of us are very self sufficient."

"NO DOLLAR STORE!!! Coalville's image should be quaint and special."
How much influence do you have?
This was perhaps the most reveling section of the survey with 63% indicating they have little or no influence of the direction and pace of growth.  Over 50 of the respondents took the time to write something in the open comment section.  A strong current of comments shows the public feels they have been left out or ignored when important discretionary decision have been made by our city leaders.  A few comments talked about the leaders following due process and the importance of property rights.
"Money talks the City listens to that rather than mid income families."

"I feel it's inevitable that the growth travels to Coalville, it's not that far out, especially with the new development across the highway. We have some say, but it's coming either way. But like the next segment says, our voices and opinions have made a good impact on the Wohali development and I am grateful for that."

"There are building codes in place which should be equally applied to all applicants. If the public doesn't like the code they should apply to be on the Planning Committee to change them. It is important however to remember this nation was built on private property rights and those should be honored"

"Many of the changes that have recently happened have seemed to take place contrary to the majority of public opinion. It feels as though leadership is not representing the majority of their constituents or protecting the rights of the disadvantaged. If our elected representatives don't represent us, our influence is drastically reduced."

"All public meetings are open and people voice their opinion. Must abide by planning code and ordinances. Just because you don't like it doesn't mean it isn't legal."

"It seems to me by the time it gets to public hearing it was already a done deal."

"Either I hear the developer has hit all the marks so nothing can be done, or they ignore what the public says for unknown reasons."

"Public Influence Has Been Sold Out."

"I feel the city and those with deep pockets dictate growth at any means possible."

"I feel like many that live within the community have voiced their opinion on how they feel on the significant growth and money has talked more. Unfortunately, I feel like the almighty dollar will win. It is sad that someone that has not been a part of Coalville's community is getting to decide the pace of Coalville's development. It is depressing to watch the small town that I have lived in my whole life change before my eyes. It breaks my heart to know that it will become mini Park City with in the next ten years. I do apprecite all the work that I Love Coalville Group has done to fight the Wohali development. I do have some hope that they can reduce the density of the development. I do not feel that the development is in the best interests of Coalville."
How can the citizens influence the direction of new growth?
85% of the respondents agreed or strongly agreed that electing officials that understand and are responsive to the public vision is the most effective way to influence our future.  Revising and updating the General Plan and Citizen groups working together were close second choices.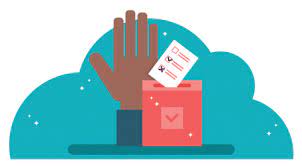 What's your vision?
Many people chose to share ideas and reflections on their vision of the future and how we can get there.  Following is a small sample.
"I feel it's extremely important to not duplicate Park City or Heber. This community needs to build its own identity. It needs to maintain it's small town character. Locally owned a focused businesses, a Main Street that caters to local residents while also recognizing the needs of the surrounding recreation areas. New developments need to focus on the character of the area as opposed to recreating their out of area properties and catering to those same cookie cutter clients and owners. Market what we value here, not what sells in other parts of the county and state. Recognition of the limits on the areas natural resources is critical to further development."

"Private property rights need to be considered at all times. Controlled growth is what we want but we need to consider all sides."

"Incremental change to enable adult children to raise their families in the community they love, without changing the entire character, agricultural, historical, and small-town feel significance of the community"

"It's all about bringing the right balance between the vision of the public and individual property rights. We need a strategic growth plan and ordinances that encourage growth and opportunities that enhance the unique identity of this community and discourage growth that detracts. That won't happen unless we elect leaders that value public input and give it an equal voice with developers."

"I believe that the majority of citizens are ignorant of the facts that city officials use to make decisions. I feel that the CFRG group is strongly anti- growth and has unfairly tried to influence public opinion as well as city officials with biased narratives. Property owners have rights and they are sacred. Without diverse growth, small towns like ours will eventually die on the vine. We need a new tax base to cover the costs of our existing infrastructure, never mind new projects like parks etc. City officials understand the challenges the city faces and can make informed decisions based on facts, not emotions."

"I would like to be more of a welcoming community to people who have not lived here for generations. I would also like to be more realistic and open minded about development. Taking in any environmental impacts, cultural impacts, as well as tax revenue opportunities."

"I see Coalville being a leader in Summit County for rural history and conserving agricultural traditions and home arts (quilts, clothing, knits, canned goods). Lives have changed and people are more likely to drive to locations and focus them on outdoor experiences. The Fair building improvements (or main street) are such an asset to host farmers markets and goods sold by locals, burgers with beef grown in the community, historical signage for a walking tour around town, Geocaching, locally grown produce and goods, more history (& mile marker) signs along the rail trail. It won't happen over night and it will take a while to gain the notoriety but it will highlight Coalville as the small rural ag town that it is, while also bringing in outside dollars to support locals."

"Just keep it small, rural, and affordable. We are NOT Park City and don't want to be; if we did we'd move there."

"The appeal of Coalville for us was a small town with the potential for a strong sense of community. We are newcomers and the only people who have welcomed us are those in our immediate neighborhood. There is no avenue for non-LDS families to meet other newcomers as well as old-timers. Having community activities open to all (not church activities) would be great. Obviously Covid has been a hindrance but we moved here pre-Covid. Examples: community cleanup of lake and trail sponsored by Coalville City, home Christmas light contest, 4th of July festival on Main Street, Winter Festival maybe coinciding with ice fishing derby or Presidents weekend. Start small and see what happens!!!"

"We need to support local business and grow it too. I would love to see more families to grow the town as well as businesses. We need to start with new city leadership. We need the public to believe they are being listened too. We need to be able to trust our leaders."
Saying it out loud!
We asked for open and straightforward responses and we got them.  There were some critical comments directed not only at the CFRG Group but also toward the city leadership.  All of the comments are important and each viewpoint needs to be considered.  However, if a comment was directed at a specific individual the identifying details have been blocked.
CRFG Observations
In reading through the comments and looking at the data, we observed several themes.
Be Unique –
First of all, most residents want the community to retain a distinct identity as our population grows.  It's clear we don't want to become a smaller version of Park City but what exactly we do want become is less clear.  It will take some coordinated effort and lots of public participation to  articulate and protect our unique heritage.
Protect Property Rights –
Many talked about the importance of property rights and being mindful of those rights as we plan and direct future growth.
Give a Welcome –
Some comments indicate we have more work to do to make newcomers feel welcome and involved.  That may be especially true for those not affiliated with the predominant religion or from family groups that are more new to the area.
Leaders Who Listen –
Many respondents talked about the importance of the public and city leaders working together to plan and prepare for our future.
Embrace Growth –
Many of the responses seem to welcome growth that enhances the existing culture of our community. With careful planning and a watchful eye we can become a more vibrant small town that is true to its agricultural roots.
Draw Your Own Conclusions –
A huge thank you to our fellow citizens for participating in this survey! We learned a lot and we hope you will too.  Please take some time to review the data and charts and read the comments.  We hope you will find new insights and be inspired to continue to be involved in shaping Coalville's future!
Click here for complete data, charts and comments –  Vision Survey Results FINALx1