At one time gated communities meant something else in Coalville.  What benefits did the public really lose when the gates came down on Wohali?
Trying Something New
Most of the golf communities around here are gated with no public access.  But in response to a few public comments, the Wohali developers decided to try something new with their first application.  The design was adjusted and the entrance gate changed to a Welcome Center.   The public would be permitted access to certain amenities:
18 Hole Golf Course
9 Hole Short Course
7 Miles of Trails (Hiking, Biking, Snowshoeing, Cross-Country)
Lodge and Spa Access
All-Faiths Chapel
Outdoor Amphitheater
Village Plaza
Splash Pad
Wohali Walk Overlooking Golf Course
The list of public access amenities  prepared by Wohali's staff can be found here: App #1 Amenities Not every activity planned was listed and there would be a cost associated to utilize many of these amenities.  However, at the preliminary stage, exact pricing was not available.
This appealed to many in the community and we believe the change was made in an earnest effort by the developer to be more inclusive of Coalville citizens.
Change of Plans
Once Application #1 was withdrawn the developer found it necessary to remove the public access for Application #2.  According to comments made by developer Jim Boyden, it was necessary to increase the project's exclusivity to maximize the project's value after the density was reduced. This was disappointing to some but matter-of-fact for others in the community.
Back in November 2019, CFRG ran an anonymous public survey to get a feel for what benefits mattered most to the public.  One of the questions involved the gate.  It was not a professional survey and the number of respondents was not huge but it's the best information we have on what people were thinking at the time.  Following is a pie chart of the results.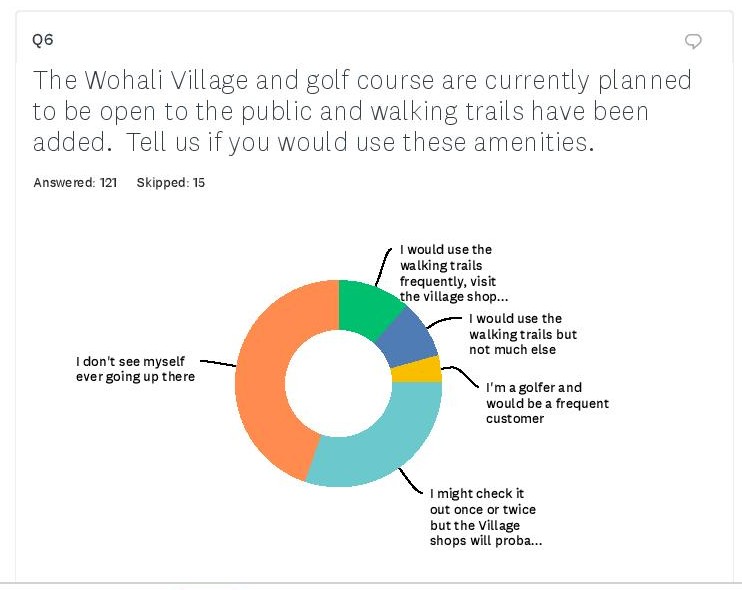 (You can access the full survey results here.)
By looking at the results, the majority of the respondents thought they would rarely if every visit the project. For most people the cost of using the Spa, Lodge and Golf Course would be pretty expensive for more that just an occasional splurge.  Green Fees can cost upwards of $300 at area golf courses.  But that's not to say that some of these amenities wouldn't have been really nice and will be missed by the community.
The Down Side
One thing the survey shows, and that people have mentioned most is the walking trails.  We love the outdoors and our trails. Having new trails to explore would very likely have been something enjoyed by public.
Another thing that would have been fun, and probably free, is the splash pad. It is something that families may have ventured over and played in several times during the summer.
Making it Work
There will be opportunities to develop new amenities for the public closer to home.  With the increased tax revenue its possible a splash pad could be built in town.  The property has been gated and private for many years so it's not like something has really been taken away.  New trails could be developed in other areas.  For those with the desire and the means there will be opportunities to utilize these new amenities.  Who knows? Maybe a local only membership could be negotiated that would be more affordable to community golfers.
One thing to remember is these amenities were never really free.  Yes there would have been a per use charge for some amenities but the real cost was a huge increase in density.  Density utilizes our resources, increases traffic and congestion and risks changing the very nature of our community.  That was a tradeoff that most people weren't willing to accept.